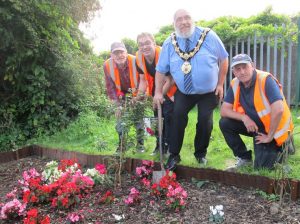 Volunteers at Greenbank railway station have earned mayoral praise for their work in bringing to life a platform garden.
Cllr Kevin Rimmer, Northwich town mayor, paid a visit to Greenbank on Monday to thank the Friends of Greenbank Station for their continuing work – notably the greenery at the side of the Chester-bound tracks.
Mark Goulborn, Nigel Nutt and FOGS's Graham Hallett visit the station every Monday, when they set about cleaning and tidying the station and planting up the planters and garden area.
Read more of this story at the Northwich Guardian ….