Journeys – a new display at Goostrey Station ….
The current restrictions mean that people are making fewer journeys by train.
To make sure that we don't forget the excitement of travelling, Becky Cowell, deputy headteacher at Goostrey Community Primary School, has produced a new display at Goostrey station called Journeys.
Our local children are helping us to remember places we visited before the Covid-19 pandemic, both real and imaginary.
As you approach the shelter on the Crewe platform, there's a large model of the Pontcysyllte Aqueduct  complete with boats. This was created by year 2 pupils as part of a school exhibition called Water. Inside the shelter are colourful press print images of trains which were produced by the same children.
In the corner of the shelter there's a huge model of Big Ben made by a pupil from year 1 when the class was studying megastructures.  It stands beside a superhero car complete with comfy cushions that was designed and made by the Reception class.  It's ideal for very special journeys!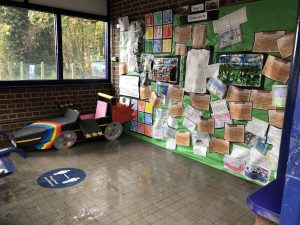 The back wall of the shelter is covered with writing and illustrations about journeys. Year 5 drew pictures inspired by Henry Moore's drawings of people waiting in the underground stations during the bombing in WWII.  Year 4 read a poem about journeys and then wrote about all the places that they would like to visit.  Here's an example :
I would travel to Denmark to see the LEGO factory.  I would fly to Hawaii to see the lovely healthy palm trees. I would love to see cute baby turtles in Hawaii. I would like to go fishing to see the vibrant coloured fish.
The Railway Carriage by Robert Louis Stevenson stimulated year 3 to create their own poems.
Faster than horses, faster than a dog running for a bone
Passing the meadows, passing the shadows
And charging along like Usain Bolt
All through the towns, all through villages
Hills and houses, dips and nature
And all of the time, rain pouring and soaking
In the corner of my eye I almost see 
A station flashing right by me 
Year 1 complemented these poems with colourful collages of views from a train window, including some cute sheep! The children have also been studying Well Being and they made collages of peaceful places that you could visit if your day was not going the way you wanted it to.
Not to be outdone by the younger members of our community, adults have been busy too. At the moment FOGS members can't have their monthly working parties but the tubs of flowering plants still need to be tended.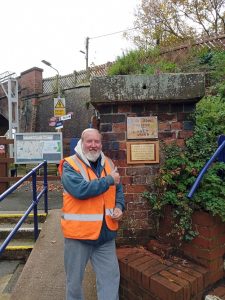 And the memorial plaque to Cyril Caulkin, our first Chair, has been repositioned on a less exposed wall beneath the Wild About Goostrey Gold Award. In addition, workmen from Network Rail have repaired some fencing.