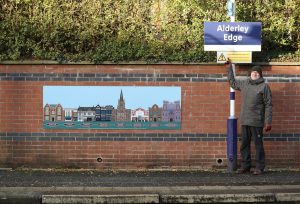 The Alderley Edge Station Volunteer group has organised the two digitally created art montages installed on the wall of the Manchester bound Station platform ….
Group co-ordinator Kelvin Briggs commented ' We want to make the station a more welcoming gateway to the village and this is our first project. Hopefully local residents, visitors and rail passengers will enjoy the images and the future plant displays we have planned .
The montage boards are the work of Stockport based digital artist Eamonn Murphy . They depict landmarks close to each station on the Crewe to Manchester line. Each of the boards features an iconic Alderley Edge building.
Kelvin said  'We chose the Queens Court building frontage because it was once the old Queen's Hotel with a railway heritage going back to 1844 when built by the London and North-Western Railway Company.'
Artist Eamonn Murphy commented 'Alderley Edge Community Primary School is a splendid building, with some interesting variations in brickwork patterns, lovely tracery, prominent bell tower and delightful ornamentation. It's a hidden gem!'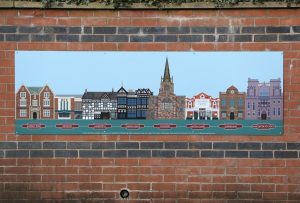 The boards have been funded by donations from group members , a contribution from the Waitrose Community Matters green token scheme and support from the Crewe to Manchester Community Rail Partnership.
Northern Trains and the Department for Transport will be helping fund future platform planters and flower displays.
The Station volunteer group are to donate a framed print to the Community Primary school to support their fundraising for improved sports facilities.
The Station group are currently raising funds for future projects including more art works, and new volunteers are very welcome to join in.
Contact Kelvin Briggs for more information kelvinbriggs@btconnect.com