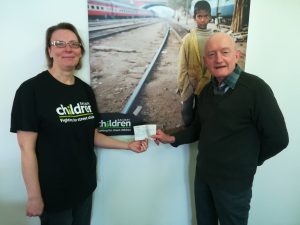 CBKS Chair Mark Barker presents Val Brignall of Railway Children with a cheque for £150
The funds were raised at the recent Cheshire Best Kept Stations 2017 Awards Evening.
Railway Children is a Sandbach based charity that works to help street children in India, Africa and the UK.
A similar donation was made to the Northwich branch of The Samaritans.
Mark said:
"We are delighted to be able to support these charities that do an amazing job as well as showcasing the work of volunteer groups at Cheshire 's stations."