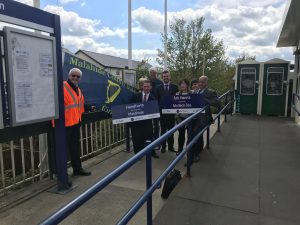 The twinning was marked this week by a handover of four station name boards, two in Irish and two in English. One of each is now displayed at Handforth station.
Following a visit to Handforth from John Reville, Passenger Service Manager, Irish Rail and Gerry Rafferty from Malahide, Mike Bishop, Chairman of Friends of Handforth Station, returned the visit and received a Malahide flag to fly at Handforth.
A Handforth flag depicting the Honford star and Handforth Hall will fly at Malahide Station.
Liam Sumpter, Central Regional Director for Northern and Jools Townsend, CEO of ACoRP were at the station to see the work that the Friends of Handforth Station had and continue to progress at the station since they, the first station Friends group in ACoRP were formed in 1996.
Liam Sumpter, Regional Director for Northern, said: "We're really impressed with the excellent work carried out by Handforth Station in creating such valuable links with international stations. The group has continuously delivered excellent results for their community and Northern, and we are really proud to have the Malahide flag at Handforth station. I look forward to seeing what this outstanding group does next."
Jools Townsend, chief executive, Association of Community Rail Partnerships, (ACoRP) says: "It's wonderful to see such a long-running station friends group going from strength to strength – and now being twinned with Malahide Station in Ireland. We know from our work supporting hundreds of community rail groups across Britain how important these groups are to their communities. They not only make stations more welcoming, pleasant places, but also bring local people together, promote pride and understanding, and help more people to access sustainable travel by rail. The Friends of Handforth are exemplary in the fantastic range of work they carry out to engage the community. We look forward to continuing to work with them to share their good practice and ideas across the community rail network."
Mike Bishop, founder of the Friends added "It is thanks to the continuing support of Northern, ACoRP, Irish Rail and all our Sponsors which enables us to make the station a unique welcoming gateway to the village."
Andrew Backhouse, Chair of Friends of Handforth Station said "Twinning, we hope will bring some mutual exchanges of good ideas, occasional visits, and just a bit more 'spice' to life as friends of a station! Friends in Ireland now, where next for Handforth Station Friends?"
Speaking about other developments Andrew added "We can now say that there is progress on some other actions. Handforth will finally get its electronic display system this month and a half hourly service into the evening will start at last.
"These are some of the things we have campaigned about without much progress for a long time. Perhaps we will soon be able to tell everyone some progress on disabled access….."