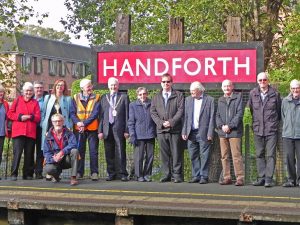 On Saturday 19th October 2019, Handforth Station was the venue for the unveiling of a newly-installed 1950s era Running In board – a large sign showing the name of the railway station. Such signs are intended to inform passengers of their location when aboard a train entering the station, possibly while still moving at speed.
This piece of railway history was bought at auction by the Connolly family, who have kindly agreed to loan it to the Friends of Handforth Station (FoHS) for display at its station of origin.
Andrew Backhouse (Chair, FoHS) welcoming the guests, said "One of our primary aims is to preserve railway history, and we're very grateful to Brian and Nancy Connolly for loaning us this sign". Hugh Everett (Secretary, FoHS) gave a safety briefing before the approximately 30 people descended the 35 steps to the Manchester-bound platform for the ceremony.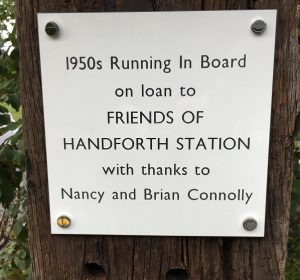 Highlights of the ceremony included the unveiling of a commemorative plaque by Nancy Connolly and brief addresses by Cheshire East's Mayor Barry Burkhill, who said "I've been involved with Friends of Handforth Station personally for years and I know how much effort they put into many schemes like this", Dan Coles of Network Rail who added "We're delighted to have worked with the Friends of Handforth Station on this fantastic initiative. Network Rail are committed to working collaboratively with communities across the region to help transform station environments" and Brian Connolly who recalled his school days using the station. Following the ceremony on the station platform, refreshments were served at the nearby Railway Hotel.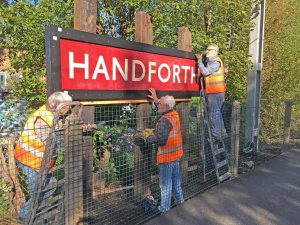 When loaned to FoHS, the running in board was in a very fragile state and liable to break. Members of FoHS inserted a stiffening panel of plywood into the rear of the board and applied several types of anti-rust treatment. A timber frame was constructed in the form of a cradle so that the running-in board could be displayed without the need to drill further holes through the enameled metal. The whole assembly was then mounted on three reclaimed railway crossing sleepers – an exercise needing ingenious engineering and a lot of manual effort.
FoHS thank Network Rail for providing funds for the crossing sleepers and the Railway Heritage Trust for funding the renovation works. Thanks are also due to B&Q in Stanley Green for providing post-fixing cement and paint. Handforth residents, including Graham Howard, Peter Moore, Nick Quinn, and Paul Redwood are thanked for assistance with the erection of the three crossing sleepers and for assistance with the construction and transport of the sign and its timber frame.
The restoration and erection of this running in board provides a perfect example of the rail industry, local businesses and local residents working in partnership with the Friends of Handforth Station to see a challenging project through to completion for the benefit of rail passengers and the local community.