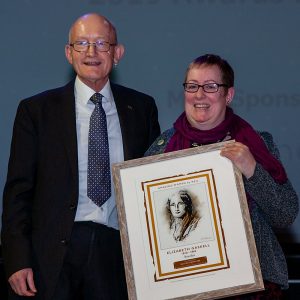 On presenting Sally with a framed print of Elizabeth Gaskell, one of the Amazing Women in Sally's project Amazing Women by Rail, Mark Barker, Chair of Cheshire Best Kept Stations said:
"Sally became Community Rail Officer for the Mid Cheshire Line in 2009, an event I well remember as I sat on the interviewing panel together with Michael Ross who is also here tonight.
"One of the best decisions we ever made, I think Mike!
"Sally served in that role for 10 years before moving to a new role with Cheshire West & Chester Council last year.
"The Mid Cheshire Line at that time had lost some of its earlier momentum, but Sally introduced her own style of Creative Partnership Working, developing a network of support and involvement with communities, colleges, volunteers along the line and with the rail industry.
"With colleagues in the CRP and MCRUA, the Mid Cheshire Line was creatively marketed under the 'Marvellous Days Out' banner.
"Sally's skill lay in spotting a potential collaborator and then having the ideas and imagination to work with them to develop an idea into a resounding success.
"The highlight of Sally's work for me was the Over By Christmas musical commemoration of WW1 in September 2014 in partnership with Theatre in The Quarter.
"400 volunteers including singers and actors in period dress put on 47 live performances at 25 stations not only across Cheshire but also at Manchester Piccadilly and London's St.Pancras International.
"This unique and breathtaking project reached over 20,000 people.
"In 2015 Mid Cheshire CRP became the first individual CRP to take the Overall Winner Award at ACoRP's Community Rail Awards.
"Sally has been an influential figure across the community rail movement, serving on the ACoRP Board and helping to found Women in Community Rail.
"Last year she was awarded the MBE for her services to Community Rail and tonight I would like make a presentation to Sally to express our thanks for her work and achievements and her efforts in helping Cheshire Best Kept Stations over the last few years."