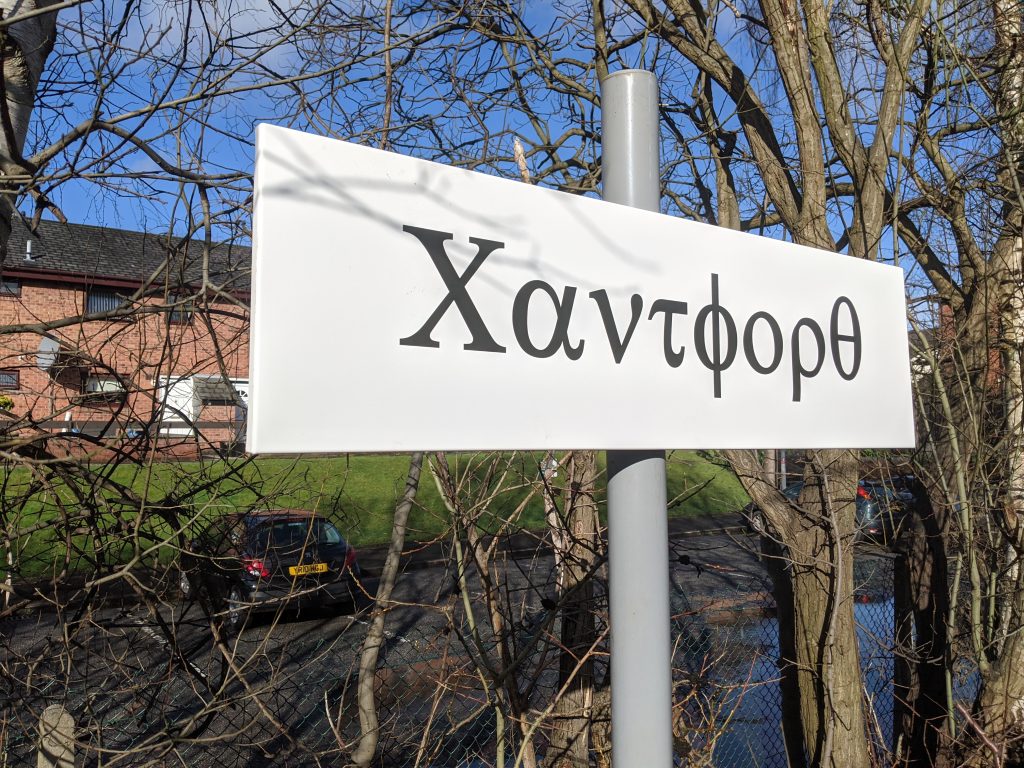 Handforth Station now boasts another place-name sign on its richly-decorated platforms – and this one is in Greek !
The Hellas Taverna in Handforth has become a regular for several members of the volunteer group Friends of Handforth Station (FoHS). When the restaurant team heard of Handforth station's collection of "foreign station signs", they were delighted to sponsor one in Greek.
The new sign transliterates the name of the station from English letters into corresponding Greek ones. As a result, passengers arriving at the station are now greeted with Χαντφορθ on the Manchester-bound platform.
Sofia and Stathis, from the Hellas Taverna, said "We were intrigued when we first saw the collection of signs that the Friends of Handforth Station have installed on their platforms. We suggested that they could do with one in Greek script, and they welcomed what we have donated to them."
Jenny Barnes, the Arts Coordinator for FoHS, said "My family and I visit the Hellas regularly and Dylan (now 7) has been going since he was in a highchair. Stathis is a nutritionist and the food there is delicious and nutritious. I was delighted when the team from Hellas joined our Friends group at the latest Handforth Paddock Christmas Fair, bringing some wonderful Mavrodfani wine from Sofia's home village near Patras, along with some melomakarona and baklava.
"We have many place-name signs on our platforms, mainly from rail companies like Netherlands Railways, Ireland's LUAS, the London Underground and Hong Kong's Metro. The idea is to make our station stand out from many others and keep us in the public eye; this was a major contributor towards us being awarded over £2M funding from the UK Department of Transport in April 2019 to install step-free access.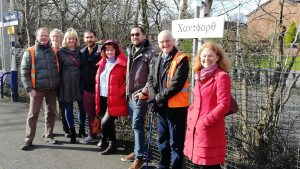 "This lovely new Greek sign is very welcome because it has been donated by friends of ours; it illustrates the strength of the relationships between Friends of Handforth Station and the local community in Handforth.
"If you'd like to join us and help make Handforth Station an even better place, please see our web-site www.handforthstation.org.uk."