The Friends of Handforth Station have partnered the local Time Out Group (TOG) as a project during lockdown ….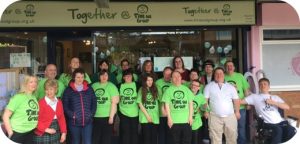 Time Out Group (TOG) is a Handforth-based charity which runs a wide range of social and sporting activities for adults with learning disabilities.
Before COVID-19, TOG members were used to meeting for social activities such as games, keep-fit, parties and film nights.
A sports programme offered fitness activities and nutrition advice, while training and work experience enabled TOG members to gain skills and aim to get jobs.
COVID-19 has temporarily closed its building, so TOG is now running a lot of its work very successfully online.
It is also using this opportunity to build a global network that will be of lasting benefit both now and when the world returns to some version of 'normal'.
TOG is increasing its strong links with the local community, and has just established a partnership with the Friends of Handforth Station.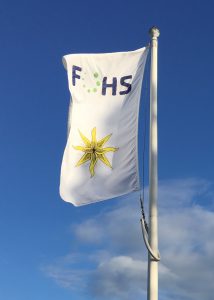 TOG members are currently designing flags to be flown at the station, to complement the variety that FoHS display throughout the year.
Jo Adams, TOG Manager, said:
"In these troubled times, our people need a safe environment to come together and learn from each other.
"We are tackling isolation in the community and encouraging independence for adults with learning disabilities through support, fun and friendship."
Jenny Barnes, Arts Cordinator for FoHS, said:
"We are delighted with our new partnership with Time Out Group, especially when it's necessary to work through social media at this time of lonely isolation that COVID-19 is forcing on us.
"The design of new flags will help TOG members and will improve our local station.
"We're very proud of all our artwork and displays at the station, and look forward to working with TOG to help them throughout the COVID-19 pandemic."