Jan Forster from the Friends of Hoylake and Meols in Bloom  reports ….
Having been given permission by Merseyrail to work on the Hoylake and Meols stations, Jan says they have just been allowed back on the stations after two months of neglect and no water.
The Friends Group is thrilled with how well the stations have survived lockdown
Here are images of the work at Meols Station ….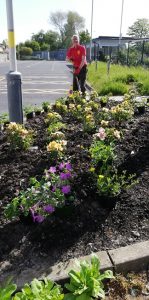 And progress at Hoylake Station ….