The Friends of Handforth Station (FoHS) have re-started regular Work Parties under strict Covid-19 guidelines ….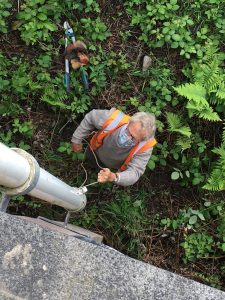 At the end of 2019 and before lockdown in March 2020, FoHS carried out extensive planting of spring bulbs and flowering shrubs in the ground alongside the southbound platform.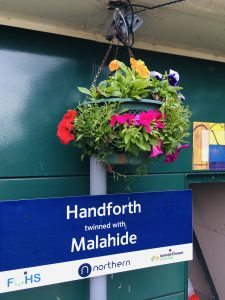 These gave a very welcome splash of colour during Spring this year, during the lovely weather that accompanied the darkest days of lockdown.
From early July, as government regulations eased, Northern Trains issued "resumption guidance", permitting Friends groups to resume work at their stations.
Since then, FoHS have worked assidously to improve the travelling experience of rail passengers and to encourage wildlife at Handforth Station.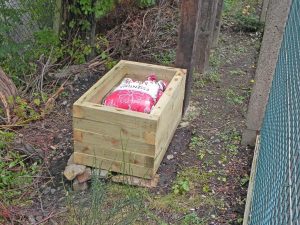 On the northbound platform, FoHS plan to install four new large wooden planters – the cost of these was generously donated by Handforth Parish Council.
The 1st Handforth Scout Group were planning to help build these planters, but Covid-19 restrictions meant that the FoHS members have had to start the work; the first planter has been constructed and moved into position.
To fill the planters, FoHS members are providing homemade compost from their gardens, which will be enriched by bags of compost donated by Parker's Garden Centre. An application has been made to the community scheme of another garden centre to provide plants.
FoHS members have started building the second planter; the third and fourth planters will be built by the Scouts when Covid-19 guidelines allow their meetings to recommence.
The planters will contain spring bulbs, as well as climbers such as roses and clematis; these will be trained against nearby supports and into the branches of trees.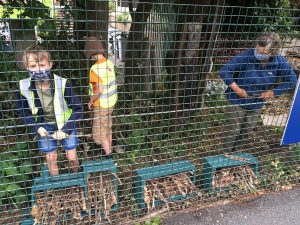 Hugh Everett, Secretary for the FoHS, said:
"We're delighted to be back at work at the station, helping to keep it cheerful and welcoming for all. We plan to meet on the last Saturday of each month between 10am and 12midday; visit our website to contact us if you want to get involved. We always try to involve other local community groups in our work, so we look forward to the Scouts helping to complete our planters soon."