You can now enjoy Platform Poetry when you are awaiting the Mid Cheshire Line services at Altrincham Interchange ….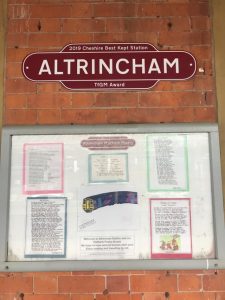 Bev, a volunteer at Altrincham Interchange. writes ….
Last year I was approached by the Friends of Altrincham Interchange to help restore the platform planters when I noticed a couple of redundant notice boards on platform 4.
A platform poetry board immediately came to mind.
Once I had the permission to proceed, I contacted my friend Pam Bradshaw and we selected poems  – train themed for the first display.
We have had success with public poetry displays on nearby Barrington Green in Altrincham which were noted as inspirational by the RHS.
My nephew made up the vintage style sign for platform 4 and local children donated art work.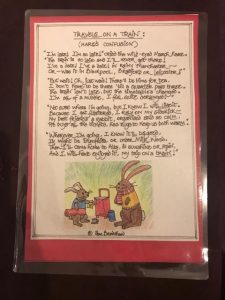 Pam, who has published a book of poems, set about writing poems about a hare and a rabbit on their train journeys from Altrincham.
To date three of their poetic adventures have been displayed.
Public poetry displays are a welcome distraction, especially in these times.