We all need to hear and read good news.  And that's especially true during a global pandemic ….
Friends of Goostrey Station are delighted to report that some of their projects are nearing completion. Soon a new display cabinet will be attached to the Crewe platform shelter. Negotiations to agree terms with the Northern Trains group to allow people to use of the recently restored building are progressing well. And, as part of a wider scheme involving about 20 stations, Network Rail has set out the timescale for installation of a cycle rack, which will be purchased using a donation awarded to FoGS by DPD.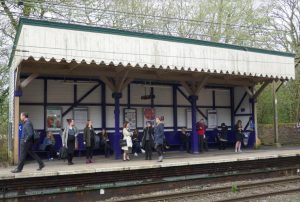 News of our achievements has spread. Recently, Chair of FoGS, Dave Roberts, was contacted by Friends of Broadbottom Station near Glossop. They have a wooden shelter that Network Rail is proposing to demolish but there is strong support in the village for retaining it. Having heard of the success of our campaign to restore the wooden station building at Goostrey, they are seeking advice on how to proceed. We wish them good luck. They'll probably need plenty of patience!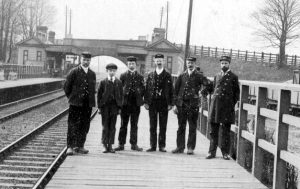 An ongoing project for FoGS is our website. Gavin Hollinshead set up the site friendsofgoostreystation.org and he continues to develop it.  There's lots to read and learn – from rail maps and timetables to the achievements of our local group of volunteers.  As Gavin comments 'Great things have small beginnings'.   The site also has links to the Transport Police and information about ticket prices, inter-rail passes and rail replacement buses.  Gavin also reports faults such as car park potholes, failing lights and missing fence panels. You can find out about the history of Goostrey station with photos dating back to 1891. There are GIS maps recording biodiversity as part of the new wildlife project. And you can improve your general knowledge too. Did you know that siderodromophobia is the fear of trains and railways?
In fact, it was Gavin Hollinshead's work that led to the foundation of FoGS in 2012.  He became a station adopter, secured a £200 donation from his employer and negotiated with Goostrey Parish Council and Crewe-Manchester Community Rail Partnership. The result was a dedicated group of volunteers intent on improving Goostrey Station so passengers can enjoy using the trains.
After so much good news, it's disappointing to report that there's evidence of recent vandalism around the Crewe platform shelter.  This included discarded beer cans and damage to the school art display. Once alerted, PSCO Ade Chadwick visited and he assures us that he will be keeping an eye on the situation. As he commented 'It's a lovely station and we want to keep it that way'. FoGS members will continue to ask Northern Rail to install CCTV.