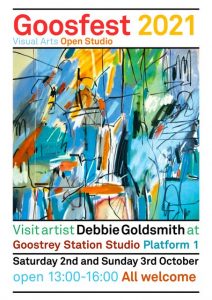 Between 1 and 4pm on Saturday 2nd and Sunday 3rd October, artist Debbie Goldsmith will host a Visual Arts Open Studio on platform 1 at Goostrey Station. Debbie is inviting us to visit the new studio where she will have work in progress as well as a display of paintings, drawing and prints. This is an excellent opportunity for everyone to see inside the restored building and to find out about the plans for community art workshops. Admission is free. Further details of this and other events during Goosfest 2021 are on their website goosfest.com.
Toilets and hand washing facilities are still needed in the station building and these are essential if our community is to be involved with the new Goostrey Station Studio. Members of Friends of Goostrey Station are supporting the negotiations between the tenants, Network Rail and Northern in order to engage plumbers, electricians, builders and septic tank specialists.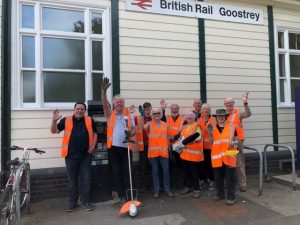 But to ensure success with this project FOGS needs more volunteers as soon as possible. At the moment we only have a small number of active volunteers; a few hours each month from more people would make a huge difference!
There are many jobs, both large and small, for anyone interested helping with a worthwhile local community project.  We need a rota of people to water the plants in the platform tubs. Currently we're applying for listing from Historic England for the wooden Victorian building. And in November we'll need volunteers to plant a donation of 30 small saplings from the Woodland Trust.
Recently FOGS used a grant from Community Rail and some of our own funds to buy a leaf blower, a strimmer and a safety visor. These tools will make it easier for us to keep the area around the station tidy.  In autumn, the amount of leaves falling from trees has been issue and the blower will reduce the amount of sweeping required. The strimmer will be used to clear paths to the triangular bug hotels and the bird boxes on the large grassy bank. It will also help to keep the vegetation under the roadside hedge under control.