Remembering Chris Dale who was Secretary of Cheshire Best Kept Stations ….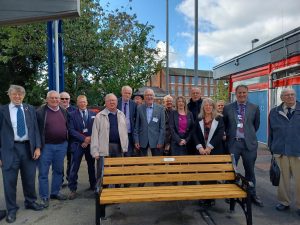 A commemorative bench has been installed at Macclesfield station to remember Chris Dale – a key figure in the North West's transport community, who died suddenly in June 2020.
Funded through friends, family, colleagues, Avanti West Coast, industry partners and the community, the bench provides a permanent memorial to Chris, where he was often seen, and a nod to one of his greatest passions – the railway.
Chris, who had a keen interest in rail from a young age, was involved in public transport campaigning for over 30 years. He was chair of passenger watchdog, TravelWatch NorthWest for 12 years and chaired the Crewe to Manchester Community Rail Partnership.
His love for the railway also saw him support the work of Cheshire Best Kept Stations as their Secretary – recognising good practice at stations and encouraging community involvement in the towns and cities they serve.
A friendly face to the Avanti West Coast team at Macclesfield, Chris would often be seen at the station sitting on platform 1 while waiting for the train. The commemorative bench is in the spot where Chris would sit, so those who knew him can enjoy one of his favourite places.
Joanna Buckley, Community Manager at Avanti West Coast, said:
"We wanted to come together with industry colleagues to celebrate Chris and all he did for passengers and communities in the North West over three decades. Rail was at the heart of his working life.
"Avanti West Coast colleagues across the business, including the team at Macclesfield have many fond memories of Chris at his stomping ground and at engagements local to the West Coast Main Line. 
"The commemorative bench provides a fitting tribute to him at his home station of Macclesfield, ensuring he's remembered by the railway family, local community and many people he made smile with his endearing personality."