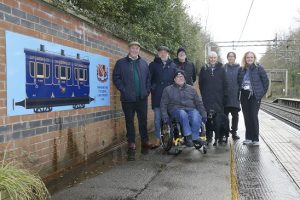 The Alderley Edge Station Volunteer Group have commissioned vibrant new artworks at the station unveiled by a local musical legend Peter Hook
The murals were revealed on Friday 4th February by Peter Hook of Joy Division and New Order fame, who is a resident of the village.
Created by Stockport-based artist Eamonn Murphy, the images show a historic first-class 1840's rail carriage on the Manchester bound platform and a set of four images called 'Looking Through The Windows' are in alcoves on the main station building depicting the iconic view from The Edge.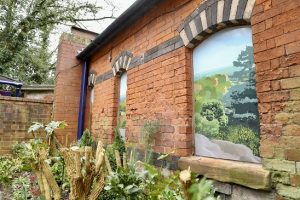 The artworks were funded jointly by the Northern Trains Ltd, The Community Rail Network and Waitrose & Partners.
Chris Jackson, Regional Director at Northern said: "I'd like to thank everyone who has been involved in commissioning and creating these wonderful pieces of art."
"As well as complementing our broader station improvement strategy, these colourful works are welcoming for anyone arriving at the station and are something for everyone in the community to embrace, enjoy and be proud of."
Artist Eamonn Murphy  has created more than 70 artworks featuring landmarks and places of interest accessible from stations on the Crewe to Manchester, and South East Manchester lines.
Eamonn said: "It is an honour to be invited to contribute to the excellent work being done by Alderley Edge Station Volunteer Group and great to see the support of local residents."
Kelvin Briggs, a volunteer from the Station Group said: " The historic railway carriage was chosen to mark the 180th anniversary of the local railway line. Our next project will see us partnering up with the Alderley History Group to create some heritage story boards to be displayed at the station later in the year."
If anyone has any old photographs of the station or would like to volunteer to help with the history project,  please contact Kelvin Briggs    kelvinbriggs@btconnect.com