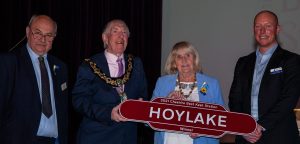 The winners of Cheshire Best Kept Stations 2021 were presented at the Annual Awards Evening  at the Grange Theatre, Northwich on Friday 1st April 2022 by Mr Chris Jackson, Regional Director, Northern Trains Ltd.
The overall winner for 2021 was Hoylake Railway Station.
Alf Clark of Cheshire Best Kept Stations, on presenting the awards, said:
"Tonight's Awards Evening is a celebration and a thank you for all the volunteers and community groups who do so much to brighten up our stations in Cheshire.
You are all winners! – whether or not you pick up an award tonight, this is a big thank you to you all;  a party for volunteers and for those who support & encourage you; rail industry, civic leaders and local authorities.
You deserve it.
We can celebrate something to be truly proud of at so many of our Cheshire stations.
We have seen some truly excellent work from volunteers and staff at stations right across Cheshire"
Click here for further details