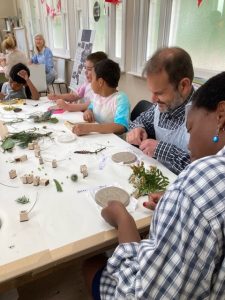 In spring 2022, Friends of Goostrey Station were delighted to hear that Goostrey Art Studio had been awarded a grant from the Let's Create Jubilee Fund.  Cheshire Community Foundation has provided funds from the National Lottery to encourage communities to reflect on the last 70 years and to look forward to the future.
In Goostrey, the money has been used for the Platinum Plaque Project, and the theme is 'celebrate the jubilee year'.
In May, older residents were invited to talk to pupils at Goostrey Community Primary School about their memories of Queen Elizabeth's coronation and her previous jubilees. Then, led by professional artists Debbie Goldsmith and Fiona Forster, the children used what they had learned to design plaques. Afterwards the clay pieces were sent to mosaic artist Tracey Cartledge. She restores architectural mosaics and creates bespoke works of art to commission for both public spaces and private property.  Currently Tracey is developing a composite of the individual plaques created by the children; she will add bursts of colour and lettering to bring it all together.  In the autumn, with the help of Northern Rail, the artwork will be installed at Goostrey station.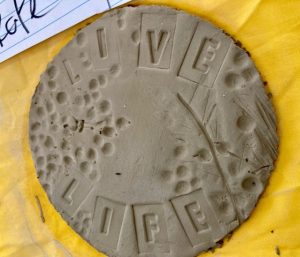 In July, Debbie and Fiona ran a hands-on workshop at Goostrey Art Studio. The families of those who had been involved in the project were invited to make and decorate clay coins. The adults and children pressed in stencils of positive words and created imprints of natural materials collected from the station gardens. All the coins have been sent to the Manchester Community Clay Studio for glazing and firing. When they come back to the studio, the coins will serve as a Jubilee keepsake for the 35 people who made them. Debbie Goldsmith said "It was a wonderful day and brilliant to see the studio being used by the community.  It's a taster of what's possible when a variety of people work together.  I'm very proud that the project has been made possible by The Arts Council England".
Student volunteers from Holmes Chapel Sixth Form College had the opportunity to help with the project, from planning through to delivery. And they were able to use the train to travel to and from the Art Studio.  Each stage of the project has been recorded and the film will be available via the FoGS website.
The Friends of Goostrey Station are delighted that the restored wooden Victorian station building on platform one has been home to this ambitious project.